Direct settlement is available as from October 2015!
Until now the district heating utility JSC  "RĪGAS SILTUMS" issued a common invoice for consumed heat by a building for the whole building. Further calculations of the amounts payable for space heating and hot water by residents were made, invoices were issued and settlements were supervised by the house administration.
As from 15 January 2014 amendments to the Law on Administration of Residential Houses have entered into force obliging the providers of public utilities (JSC  "RĪGAS SILTUMS") to apply direct settlement for received utilities (delivered heat) according to the proposal by the owners of the house-heat consumers as from 1 October 2015.
In order to implement this complicated service whose costs are not included in the DH utility heat rate, the company performed careful study. The experience of other companies who provide direct settlements was studies, the number of potential customers who could choose direct settlement was estimated.
The company has identified the needs for technical provision, the number of employees and other resources for providing this new service.
The costs of the Joint Stock Company "RĪGAS SILTUMS" for preparing one direct invoice amount to 2.73 EUR, and post fees of 0.57 EUR plus VAT should be added on top of that. The costs will decrease if the customer chooses to receive an invoice electronically.
Service costs per invoice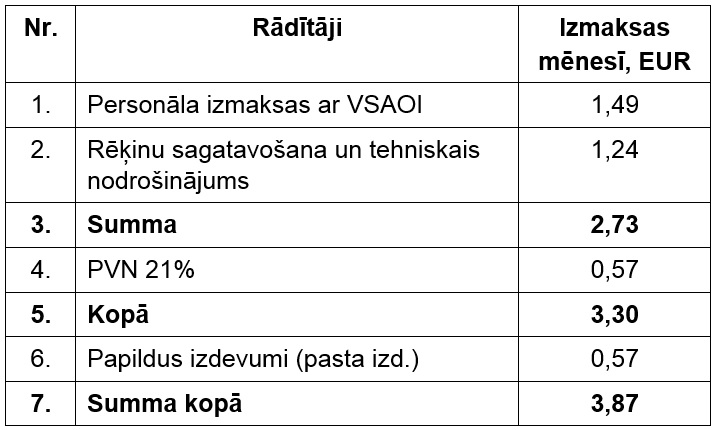 In order to select direct settlement the majority of apartment owners have to decide positively. By adopting this decision this choice has to be communicated to the house administrator and the service provider within two weeks as from adopting the relevant written decision.